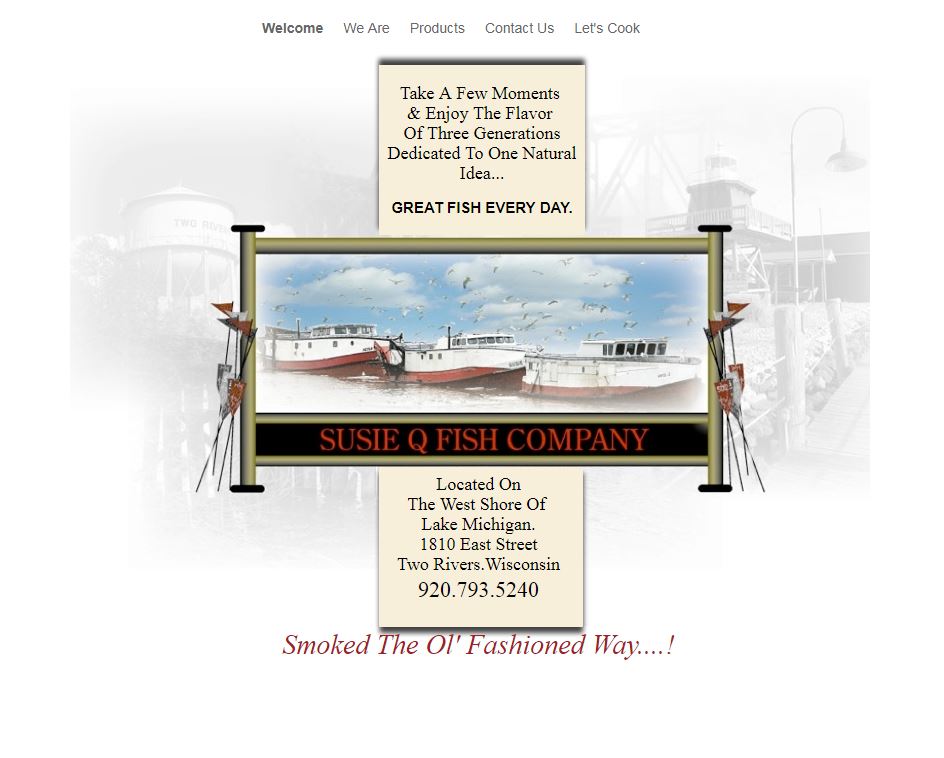 The LeClair family has been fishing Lake Michigan from Two Rivers for more than 130 years! Our French Canadian descendents began moving to this area in the mid-1800s from Quebec; the LeClairs, Allies, Gautheirs, Gagnons, LaFonds, Vaudreuils, Lonzeau, and Sanvilles. Most ran commercial fishing operations - and the LeClairs are still at it - plying the waters of Lake Michigan just as our forefathers did!

In the 1880's, Albert LeClair traveled from Canada and settled in Two Creeks, about 10 miles from Two Rivers. Albert farmed for a few years and then decided in the 1900s to start fishing on Lake Michigan for lake trout in row boats and sail boats. They started fishing with pond nets and later converted to gill nets, which made it easier to fish. Their nets caught fish around their gills and the fishermen had to pick them out of the net one by one. Later he called his three brothers to come join him in Two Rivers and they all became fisherman together. Albert's son Charles LeClair continued the fishing tradition.

In 1946, Two Rivers had 18 fishing operations. They expanded to different fishing gear, like drop nets and deep-waterpond nets. They also began building chub boats to fish gill nets in deep water.

In 1944, Peter LeClair started working for his father Joe (son of Charles). When Peter graduated in 1946, he became a full-time fisherman. In 1950, Peter purchased his father's gill net boat and fished until 1962. Then he purchased a boat from Lake Erie and made a trawler out of it to catch the high volume of alewives that moved into the lake from the ocean. Susie Q Fish Company holds the state record of 250,000 pounds of alewives caught in one day. Peter fished alewives until the late 1980s, but had to stop due to the D.N.R. wanting to save the alewives for the salmon in the lake. This is when Peter decided to trawl for smelt in Lake Michigan.

In 1966, Peter's son Michael started fishing part-time. When Michael graduated from high school in 1970, he became a full-time fisherman. Peter and Michael decided in 1980 to open a fish market in Two Rivers, calledSusie Q Fish Market. They started out with 2 smokehouses and later added 4 more smokehouses. Chubs, salmon, trout, whitefish, herring, and carp are the fish that are smoked. Susie Q's smoked fish can be found throughout the Midwest.

Today, Susie Q Fish Company owns two trawlers (Susie Q and Peter Paul), one gill net boat (Avis-J) and a trap-net boat (Jamie Ann). The trawlers fish for smelt, the gill net boats fish for chubs and the trap-net boat fishes for whitefish. Michael's two brothers, Daniel and Paul, also joined the company as well as his daughter, Jamie.
What you can do here
Buy Fish, View Active Fishery
Hours: Monday- Thursday 8AM- 5PM. Friday 8AM- 530PM. Saturday 9AM- 3PM. Sunday Closed.
1810 East Street
Two Rivers, WI 54241
GPS: 44.15014, -87.56245
Included In:
More Information
| | | |
| --- | --- | --- |
| Tasty favorite fish recipes from Susie Q Fish Company (Two Rivers, Wisc.) | Info | |