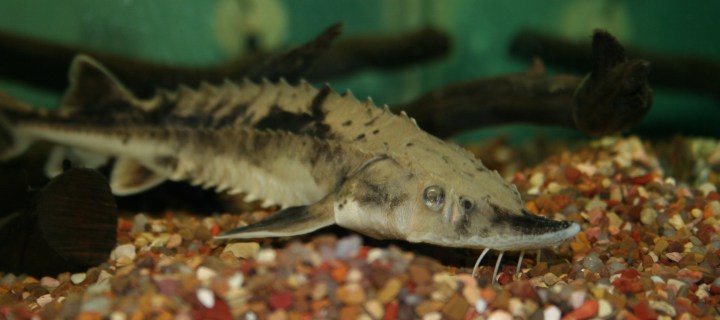 Grand Fish, Grand River exhibit at Grand Rapids Public Museum features live Lake Sturgeon!
Grand River, Grand Fish exhibit explores how the Great Lakes region's largest and oldest fish, the Lake Sturgeon, once found in great abundance, is now a threatened species in our watersheds. The exhibit takes visitors through the connections to Native Americans, fishing history in the region and current science. Using artifacts from the GRPM Collections, along with the two live sturgeon, it will tie together the cultural, historical and scientific connections and explore rehabilitation efforts for this species in the Grand River and throughout the Great Lakes region. Lake Sturgeon live along the rocky bottoms of our lakes and rivers, and are an important environmental indicator for the health of our ecosystem. These fish have fossil ancestors that from the Early Jurassic Period – the age of the dinosaurs. Lake Sturgeon have affected the region historically and culturally and still do today.
The exhibit opened Saturday, January 23 2015, the admission to Grand River, Grand Fish will be free with general admission to the Museum. Visit museum website for hours of operation and admission fees.
This exhibit was made possible by partnership with:
Michigan Department of Natural Resources, Fisheries Division, Tribal Coordination Unit
Michigan Department of Natural Resources, Fisheries Division, Oden State Fish Hatchery
U.S. Fish and Wildlife Service
And by sponsorship with:
Aqua Blue Aquarium Solutions
Blue Fish Aquarium
Grand Rapids Steelheaders Foundation,
Great Lakes Fishery Trust
Schrems West Michigan Trout Unlimited
What you can do here
Access Fishing History & Culture Research, Gift Shop or Fisheries Items for Purchase, School or Group Tours, View Exhibits

Hours: Monday – Friday 9 a.m. – 5 p.m. ; Saturday 10 a.m. – 5 p.m.; and Sunday 10 a.m. – 5 p.m.
272 Pearl Street NW
Grand Rapids, MI 49504
GPS: 42.96571, -85.67667

Included In: