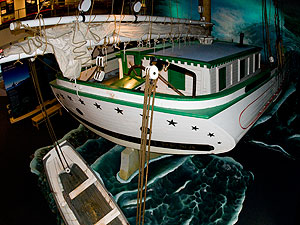 Located in northwestern Lake Huron, Thunder Bay is adjacent to one of the most treacherous stretches of water within the Great Lakes system. Unpredictable weather, murky fog banks, sudden gales, and rocky shoals earned the area the name "Shipwreck Alley." Today, the 4,300-square-mile Thunder Bay National Marine Sanctuary protects one of America's best-preserved and nationally-significant collections of shipwrecks. Fire, ice, collisions, and storms have claimed over 200 vessels in and around Thunder Bay. To date, nearly 100 shipwrecks have been discovered within the sanctuary. Although the sheer number of shipwrecks is impressive, it is the range of vessel types located in the sanctuary that makes the collection nationally significant. From an 1844 side wheel steamer to a modern 500-foot-long German freighter, the shipwrecks of Thunder Bay represent a microcosm of maritime commerce and travel on the Great Lakes.
The NOAA Thunder Bay National Marine Sanctuary protects some fishing vessels among the shipwrecks that now lie underwater in northern Lake Huron, such as the fishing vessel Maxwell. Exhibits on land at the Great Lakes Maritime Heritage Visitor Center offer opportunity to explore Great Lakes ecosystem issues like climate change, invasive species and marine debris - along with fisheries habitat efforts like the Thunder Bay reef restoration project. The interactive 3-D science on the sphere also offers opportunities to visualize and interact with these issues in a more global context.
The sanctuary's visitor center, the Great Lakes Maritime Heritage Center, is free and open all year.
What you can do here
Access Environmental Research, Access Fishing History & Culture Research, Boat Rides, Gift Shop or Fisheries Items for Purchase, School or Group Tours, View Exhibits

500 W. Fletcher
Alpena, MI 49707
GPS: 45.06885, -83.43468
Affiliated Organization:
Included In: