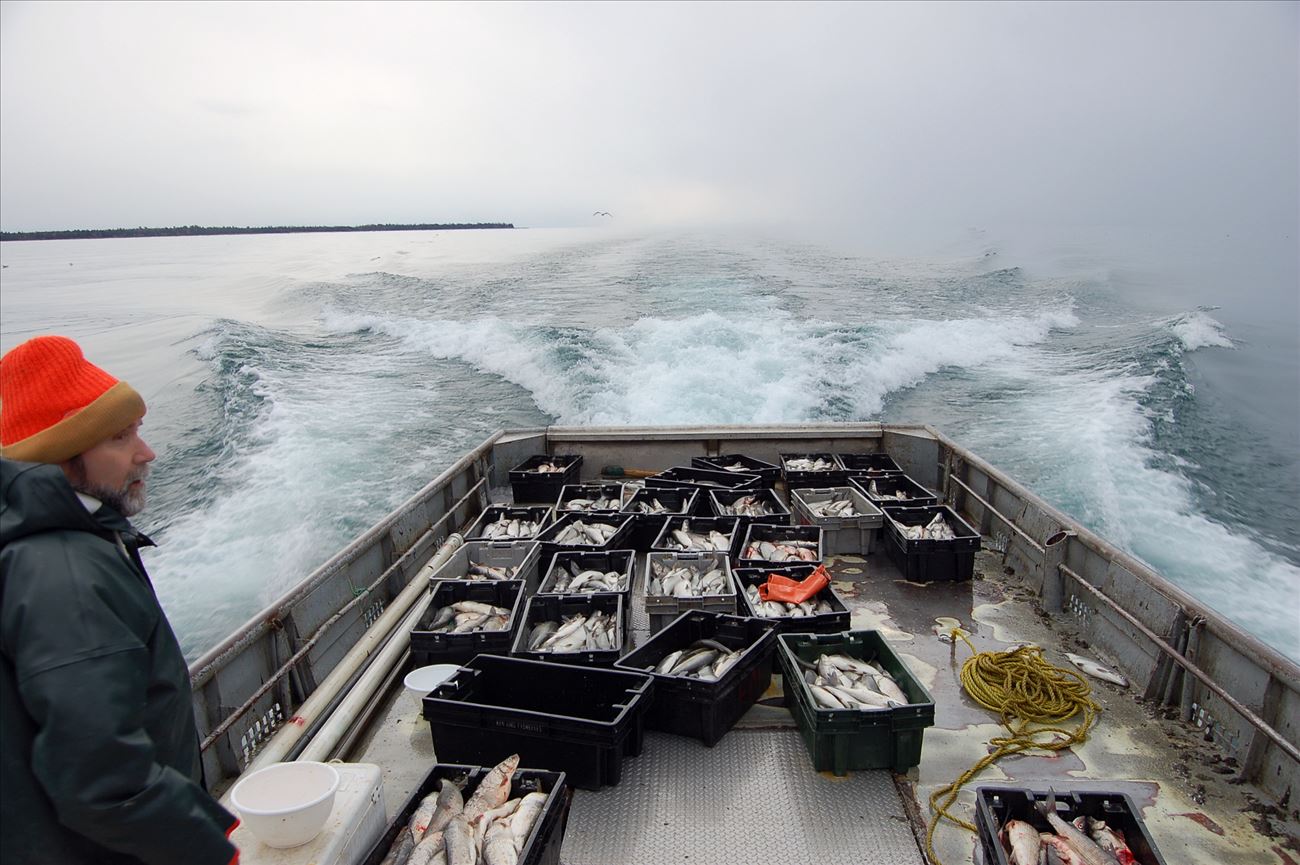 THE LIFE OF A COMMERCIAL FISHERMAN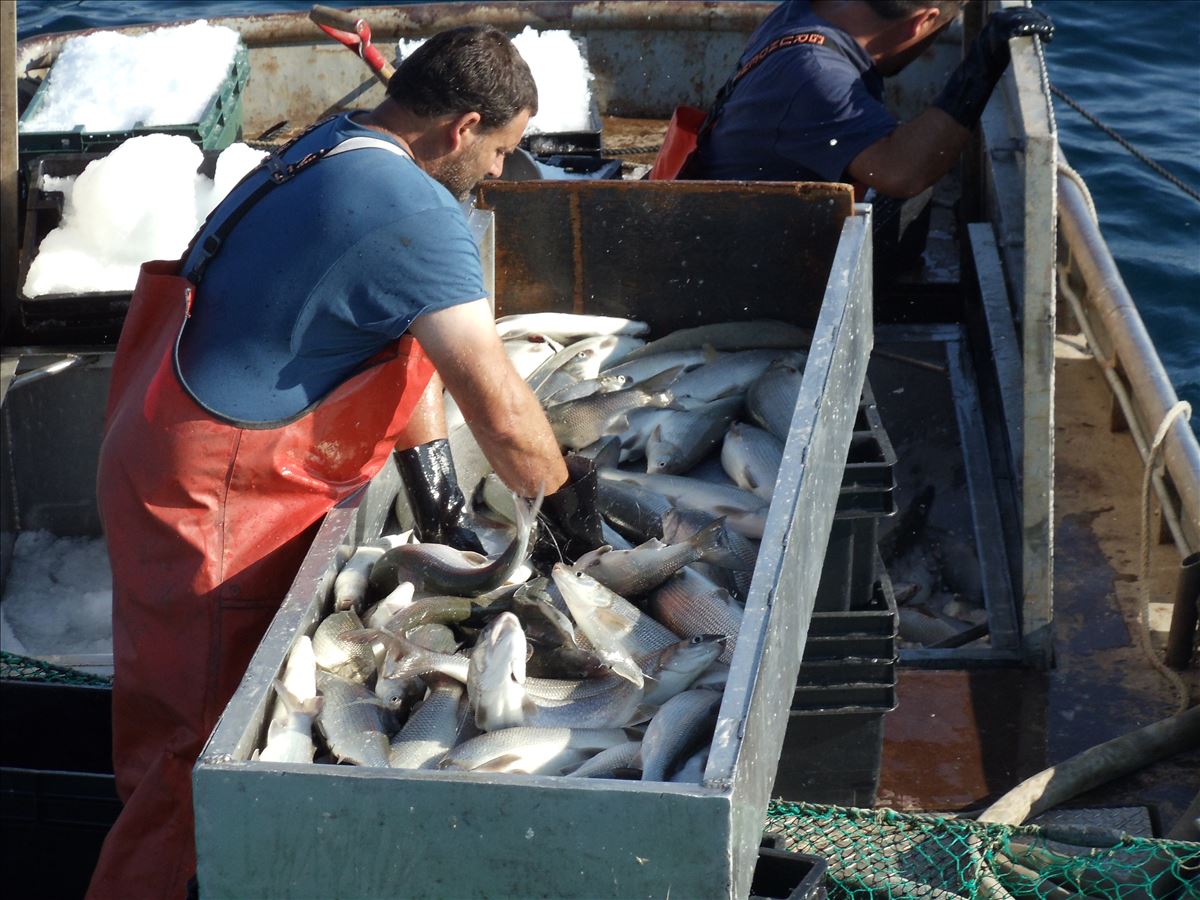 Rarely glamorous and often challenging, the life of the commercial fisherman is similar to that of the family farmer. The work is hard and sometimes dangerous and the income uncertain and variable. The commercial fishing operation is frequently a family venture, with information, techniques and equipment passed on through generations.
In many cases, family members take part in all aspects of the business, including fish processing and sales. Knowledge of the lakes is critical. Commercial operators often have detailed understanding of depth, current, substrate, landmarks and navigation, fish movements and subpopulations, and weather patterns. They are also skilled mechanics and craftsmen, which allows them to do a majority of their own boat and net repairs.
While various technological advancements have aided the commercial fisher in recent years, it is still a time-consuming and difficult occupation. Despite the challenging lifestyle, many speak of how fishing and the lakes are "in their blood."
Source: Life of the Lakes: A Guide to the Great Lakes Fisheries, Michigan Sea Grant
More Information
| | | |
| --- | --- | --- |
| A book about Isle Royale (Michigan) Fisherman and Their Boats | Info | |
| A profile of the Bay Port Fish Company posted on the Michigan Fish Producers Association and Greaet Lakes Whitefish websites. | Info | |
| A profile of Bell's Fishery posted on the Great Lakes Whitefish website. | Info | |
| A profile of Big Stone Bay Fishery posted on the Great Lakes Whitefish website. | Info | |
| A profile of Carl & Don Frazier Fishery posted on the Great Lakes Whitefish website. | Info | |
| A story about Tuffy Cross, a 5th generation commercial fisherman, and his life on Lake Huron. | Info | |
| Family Fish and Fishing Stories | Info | |
| Book about the story of the early maritime family of Johann Lutz | Info | |
| short video documentary about Jessica Nelson, of Munising MI. Jessica is the owner of Vanlandschoot & Sons Commercial Fishery. | Info | |
| A profile of Gauthier & Spaulding Fishery (now retired) posted on Great Lakes Whitefish website. | Info | |
| What unpredictable paths may lead to a fisherman's life? | Info | |
| | Info | |
| Video documentary about Peterson's Fishery (Hancock, MI) | Info | |
| Book about the LaBlance commercial fishing family on the Great Lakes. | Info | |
| | Info | |
| Online oral history collection from 1977 with North Shore commercial fisherman. | Info | |
| | Info | |
| A book illustrating life growing up in a fishing family on Isle Royale. | Info | |
| A profile of Petersen's Fisheries posted on Great Lakes Whitefish website. | Info | |
| Stories of Michigan Fishermen and Fishing Families | Info | |
| When the Carlson family, associated with Fishtown for more than 100 years, almost abandoned fishing | Info | |
| Book will take you on a journey into the lives of the men and their families involved in commercial fisheries of northern Lake Michigan and Door County. | Info | |
| The story of Albert LaBlance's life as a commercial tribal fisherman under the Chippewa Indians, and how it has changed from his family's. | Info | |
| A profile of VanLandschoot & Sons Fishery posted on the Great Lakes Whitefish website. | Info | |
| A profile of Walters Fishery posted on the Great Lakes Whitefish website. | Info | |
| A profile of the Wilcox Fisheries posted on the Great Lakes Whitefish website. | Info | |
| Book presents history of commercial fishing in northern Lake Michigan and Door County 1850-2005. | Info | |
News
Thursday, September 13, 2018