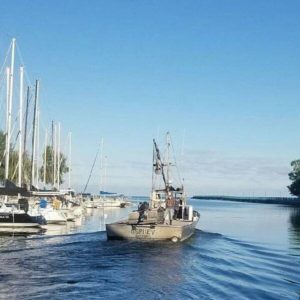 BAY PORT FISH CO.
The Fish Caught the Williams Brothers, and Their Best Fish Are Becoming Legends.
The osprey is a large fish eating bird, with a variety of live fish accounting for about 99% of its diet. Tod Williams' Osprey is a 50 foot commercial fishing boat. Rigged with trap nets, it hauls in 6,000 pounds of whitefish on a good day, then chugs her way back to her temporary port in Caseville. The Osprey isn't just any boat to Tod; he built her himself, under the direction of local expert boat builder Fred Brown. She's served him and the Bay Port Fish Company crews well, faithfully weathering the volatile conditions on shallow Saginaw Bay.
Commercial fishing was not the career Tod had in mind when he was growing up. He doesn't come from a long line of fishermen. In fact, he tried his hand at being a cowboy in Nebraska after he left Michigan State University. It wasn't long, though, before he returned to Michigan, where his brother Forrest had been working in the hotel industry.
The Williams brothers bought the state-licensed Bay Port Fish Company from Henry Englehard, who had started the community's Fish Sandwich Festival. Some folks told them they were crazy, but the fishery certainly captivated them and, after all, the Bay Port slogan is "Fish caught the man."
They learned what they could from experienced fishing captains such as Ralph Cross and Ross Lange, and they kept at it. They tried different gear, such as the purse seine, and did some research. They first tried catching perch and catfish, and then got into whitefish. They see lots more whitefish now than in their early days 30 years ago, but they also struggle with low water (which is why they're docking at Caseville temporarily instead of Bay Port), changes in the habitat and invasive species such as zebra mussels. Tod says, "When zebra mussels attach to the nets, it feels like a net full of cement!"
Tod says he really likes being his own boss, working in the fresh air with good people and providing a healthful product. About the only down side to commercial fishing, Tod says, is pulling up nets in foul weather.
The Bay Port Fish Company is always looking for good opportunities, such as selling some of their catch at farmers' markets, where clientele appreciate buying fresh fish directly from the fishermen and getting some tips on taste tempting techniques. The Williams' experience in the hospitality industry has taught them much about customer service and providing a quality product. The fishery is now managed by Tod and his daughter Lakon Williams.
This story posted in Fishing Families on Great Lakes Whitefish website (view PDF version of original web content). This profile is also published online by the Michigan Fish Producers Association ('The Fishermen' ).
Affiliated Organizations: