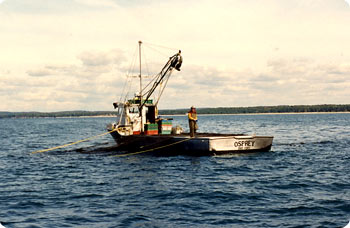 "The Bay Port Fish Company is always looking for good opportunities, such as selling some of their catch at farmers' markets, where clientele appreciate buying fresh fish directly from the fishermen and getting some tips on taste tempting techniques. The Williams' experience in the hospitality industry has taught them much about customer service and providing a quality product." - Click Here to read more about this fishing family.
About Our Family Business (read also online):
Since the early 1840s, there have been fishermen in Bay Port Michigan. The Bay Port Fish Company is a commercial fishery in Lake Huron and Saginaw Bay, established in 1895. It has been operated by many owners, and it is currently owned by Tod Williams and Forrest Williams' heirs. The fishery has been operated by the Williams family for over 39 years. The Williams family purchased it from Henry Englehard in 1978 and has run the fishery ever since.
The company operates between spring and fall, depending upon the weather, and has four boats: The Osprey, The Argo, The Patsy, and The Sunflower
Fresh, Smoked, and Frozen Fish can be bought from the retail store in Bay Port.
What you can do here
Boat Viewing, Buy Fish, View Active Fishery
Hours: Open Sunday-Thursday 9-4; Friday and Saturday 9-5 and by appointment only in Winter
1008 1st St.
P.O. Box 57
Bay Port, MI 48720
GPS: 43.85089, -83.37324
Affiliated Organization:
Included In:
More Information
| | | |
| --- | --- | --- |
| A profile of the Bay Port Fish Company posted on the Michigan Fish Producers Association and Greaet Lakes Whitefish websites. | Info | |