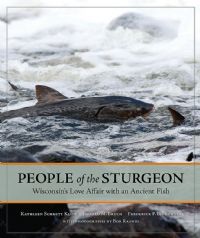 Book by Kathleen Schmitt Kline, Ronald M. Bruch, Frederick P. Binkowski, with photographs by Bob Rashid
Summary of this Lake Sturgeon documentary book (audio book also available), as provided by Wisconsin Historical Society Press:
Lake sturgeon, an ancient fish native to the Great Lakes region, can grow to be more than six feet long, 200 pounds, and live more than 100 years. This "dinosaur fish" teetered on the brink of extinction since the late 19th century. But in Wisconsin, careful management for over 100 years has allowed one population to thrive. "People of the Sturgeon" is a history of the cultures surrounding lake sturgeon in Wisconsin's Lake Winnebago region, told by a fascinating collection of photos, artifacts, and a few good fish tales. From some of the earliest inhabitants of Wisconsin, the Menominee Indian Tribe, to the spearers who flock to frozen Lake Winnebago for the annual sturgeon spearing season, people have always been drawn to this ancient fish.
While overfishing, dams, and pollution nearly wiped out other populations of lake sturgeon, Winnebago sturgeon have survived and flourished because of the dedicated efforts of state managers, university researchers, and a determined group of spearers known as Sturgeon for Tomorrow. This is the only population of sturgeon in the world to have been nearly extirpated, then resurrected through a community-wide effort of people who are now joined together as "People of the Sturgeon." To receive a review copy or press release, to schedule an author event, or for more information contact the WHS Press Marketing Department: whspress@wisconsinhistory.org.
Explore a story map online illustrating images and locations described throughout this book.
Listen to the oral history recordings collected as part of the research for the book.
Watch this presentation (aired 10.20.2009, University Place, PBS) by co-author, Kathleen Kline, to learn more about this book and project: