The Great Lakes Gill Net Tug was designed for gill net fishing methods, this boat design and gear dominated commercial fishing activities through the late 19th and early 20th centuries. Made of wood and later by steel, the entirely enclosed Great Lakes' fishing tug represents a design unique to the Great Lakes. Often nicknamed 'turtle backs'- this enclosed boat design allows fishermen to fish year round on the always cold and often wind-tossed waters of the Great Lakes. Wood turtlebacks were often sheathed in steel to protect the hull as they plowed through the pack ice. Boat builders and fisherman shared, copied, and improved upon the best innovations. By the mid-1900s this design had 'fully evolved' and was found throughout the Great Lakes region – a signature and seaworthy design. This vessel is an icon of the Great Lakes commercial fishing industry, and a commercial fishing fleet once consisting of over 900 vessels.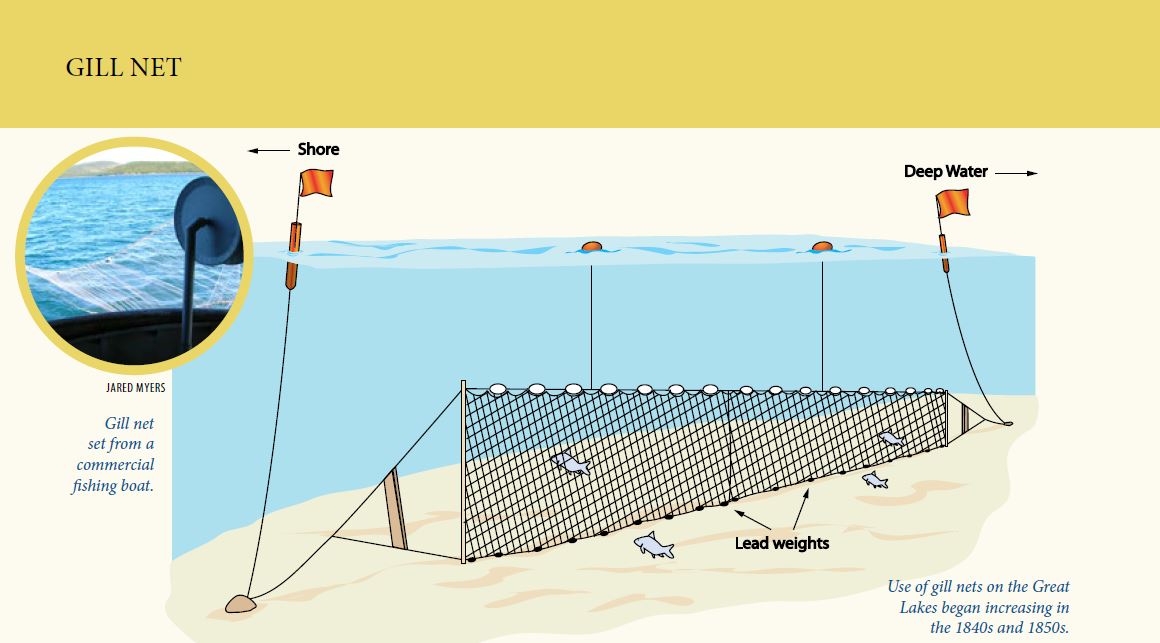 Gill Nets are size-selective, meaning the panels of the gill net are designed to allow fish to swim partially through square mesh before the girth of the fish causes it to become entangled. Gill nets could be said to look like a fence that stands or is suspended in the water. Weights are attached along the bottom of the net and floats attached to the top of the nets keep it upright.
Explore historic Great Lakes gill net tugs exhibited across the region at maritime museums, including:
You may also wish to visit Great Lakes harbors and coastal working waterfronts to view and experience gill net tugs actively fishing still today.
If not out fishing, you may find opportunity to view vessels at dock or unloading their catch of the day. Other opportunities may include the experience of riding aboard a historic gill net tug during an on-the-water tour community tour. Several coastal tourism operators have retrofitted old commercial gill netters to offer community tours, dinner cruises, and more. Explore this interactive map to discover some of these exhibits, opportunities, and experiences.
More Information
| | | |
| --- | --- | --- |
| A website documenting fish tugs of the Great Lakes, including modern and historic images of the Great Lakes fishing fleet. | Info | |
| A website devoted to Great Lakes fish tugs and commercial fishing. | Info | |
| A Research Report documenting Katherine V Commercial Fish Tug by Frank & Nancy Prothero | Info | |