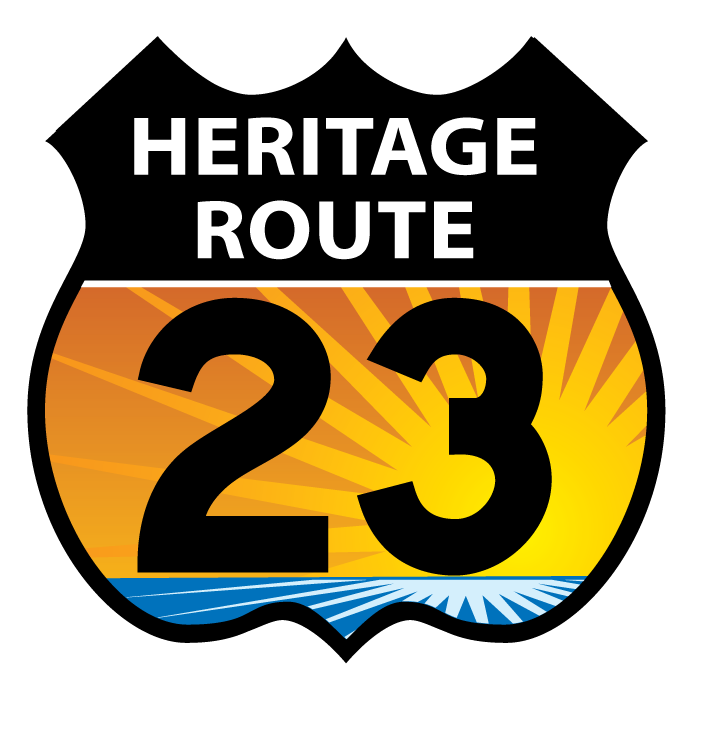 Northern Lake Huron is rich in Great Lakes fisheries heritage and tradition, from historic commercial to current day recreational fisheries, offering value for communities and visitors alike.
The coastal Lake Huron communities of northeast Michigan are rich in Great Lakes fish and fishing, heritage and traditions. These Lake Huron fisheries (both fish and people fishing) reflect a way of life for local communities and contribute to sustainable coastal tourism development opportunities as much today as they have in the past.
A diversity of fish—some 115 species—inhabit the waters of Lake Huron providing a wealth of food, fun, ecological and economic values. Anglers enjoy equally diverse recreational fishing opportunities from offshore salmon, steelhead and lake trout to more near shore walleye, perch, pike and bass—among many other species to be caught. Lake Huron also provides the largest catch of lake whitefish, a popular food fish, accounting for approximately half of all whitefish commercially harvested across the Great Lakes. These dynamic and ever-changing Lake Huron fisheries provide many values and benefits across coastal communities of northeast Michigan.
A visit to northeast Michigan offers a chance to explore these Great Lakes fisheries heritage experiences. The US 23 Heritage Route promotes coastal tourism opportunities across northeast Michigan and northern Lake Huron. This collection connects fisheries heritage information and opportunities as part of the coastal tourism landscape in this region.
Visiting coastal northeast Michigan? Plan your trip by visiting the U.S. 23 Huron Shores Heritage Route website at http://www.us23heritageroute.org/.
| | | | |
| --- | --- | --- | --- |
| | | Info | |
| | The Courtyard is a local restaurant in Alpena, Mich. offering local Great Lakes fish on the menu. | Info | |
| | | Info | |
| | | Info | |
| | Sells smoked Great Lakes fish. | Info | |
| | | Info | |
| | Federal agency conserving and managing fish and other acquaticc resources. | Info | |
| | State Historic park where you can explore local Straits area fisheries history exhibits. | Info | |
| | | Info | |
| | | Info | |
| | Wholesale market & Retail Market | Info | |
| | Annual winter festival centered around Lake Sturgeon fishery on Black Lake. | Info | |
| | | Info | |
| | Every fish Gauthier & Spaulding catch and process reflects a hundred years of experience. | Info | |
| | | Info | |
| | | Info | |
| | | Info | |
| | | Info | |
| | | Info | |
| | | Info | |
| | Promoting Community Boat Building, Rowing & Sailing on the Heritage Coast of Michigan | Info | |
| | | Info | |
| | | Info | |
| | Marine Meat Market is a full service meat counter offering a wide variety of seafood, including Great Lakes walleye and whitefish. | Info | |
| | | Info | |
| | Fort Mackinac (1781-1895) on Mackinac Island features a fisheries history exhibit related to the fishing and the fishing industry of the Straits area. | Info | |
| | | Info | |
| | | Info | |
| | | Info | |
| | | Info | |
| | Fishing charters on the waters of Lake Huron in Alpena, Presque Isle, and Rogers City, Michigan and the beautiful Thunder Bay. Fish for Brown trout, Chinook, King, salmon, Lake trout and walleye. Fishing since 1968,and chartering for 50 years, Capt. | Info | |
| | | Info | |
| | | Info | |
| | | Info | |
| | | Info | |
| | | Info | |
| | | Info | |
| | | Info | |
| | | Info | |
| | | Info | |
| | | Info | |
| | Enjoy a Lake Huron cruise aboard a historic fishing vessel paired with a Great Lakes fish dinner experience on Charity Island. | Info | |
| | | Info | |
| | | Info | |
| | | Info | |
More Information
| | | |
| --- | --- | --- |
| Facility Brochure, Sturgeon Science and Research | Info | |
| Michigan State University Extension (Michigan Sea Grant) online news brief | Info | |
| Book documenting history of commercial fishing in Alcona and Iosco Counties of northeast Michigan | Info | |
| Book documenting history of commercial fishing on Thunder Bay, northern Lake Huron areas from Black River to Rockport | Info | |
| Video tour of the 1928 Katherine V Exhibit at the Besser Museum for Northeast Michigan. | Info | |
| Exhibit Interpretive Panel Sign | Info | |
| A collection of interviews with community anglers and agency researchers experiencing the 2000s Lake Huron Chinook Salmon fishery collapse. | Info | |